Why Wedding Photography is So Expensive
Why Wedding Photography is So Expensive
Unlike most of your expenses, your wedding photographs will last forever – and you only get one shot to make them right.
When I first meet couples to talk about photographing their wedding, it's not uncommon for one half of the team (let's be honest: the groom) to say the same thing I've heard dozens of times before: "Why is it so expensive? You're charging hundreds of pounds an hour!"
I promise, the day you see me turn up to your wedding in a brand-new Ferrari, you can start thinking that wedding photography is the path to riches – but it's not likely to happen anytime soon.
The truth is, it's expensive to become (and stay) an expert professional wedding photographer, and there's a lot more work that goes into your wedding photographs than the hours you see me snapping away on the day. But more about that later, because before I pull out my accounting book and we get into all the details of why wedding photographs are so expensive, we need to talk about why wedding photographs are so valuable.
Consider most of the significant expenses of planning a wedding. The food, drinks and cake are gone by the time you go to bed. The venue and accommodations won't let you stay forever (well, maybe they will if you get married in your parent's backyard, but would you want to?) The flowers will wilt, the decorations will be thrown away, and the DJ will go home. Your makeup will be washed off, and your hairstyle will be gone by the next morning. Your wedding dress will last, but you'll probably never wear it again. (That's a great reason to donate your dress to a charity, like Wish For a Wedding.)
Of all of these expenses, only your wedding photographs increase in value over time. No one suggests you DIY the dress to save money or get your friend who makes a mean homemade pizza to cater for the whole reception, so why is it so common for people to question the cost of professional wedding photos, the only 'luxury' on the bill that will last a lifetime? Why is the reluctant groom so likely to offer up his cousin "with the fancy camera" as a possible alternative to a real professional wedding photographer?
What Professional Wedding Photography Is Not
It's true – thanks to Instagram, phone cameras, affordable DSLR cameras and Photoshop, more and more people are used to capturing their own big moments and can get decent-quality shots. But the groom's cousin with the £2,000 camera and a working knowledge of Lightroom is not a professional wedding photographer, even if he did great incredible shots of his last vacation to Spain.
Photographing a wedding is both a marathon and a sprint – it's not unusual for me to be on my feet (or on the floor, or in a tree) for 14 hours straight. I usually arrive long before the main event to capture as many small details as I can, and I only get one chance to get the shots that really matter. There's no second take of the reaction on the groom's face the first time he sees the bride in her dress, or the first kiss the newlyweds share as a married couple.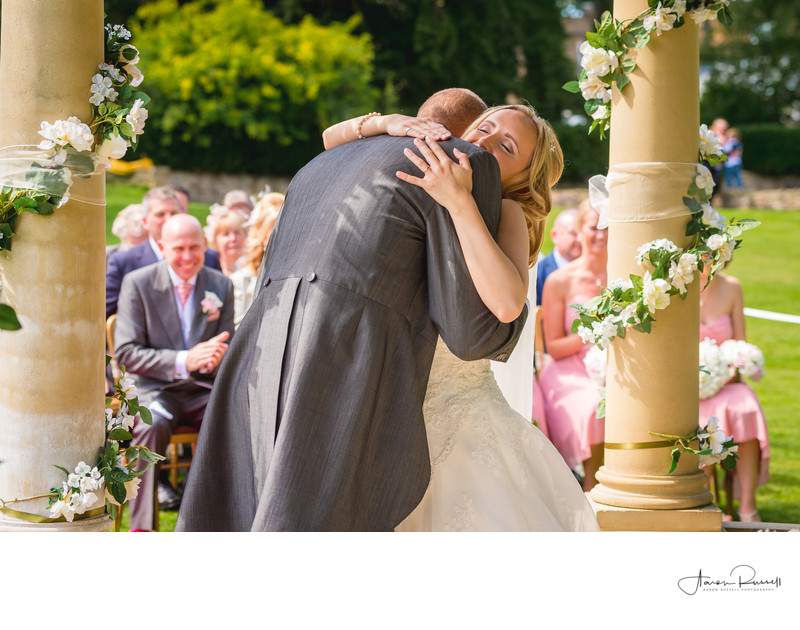 Knowing exactly where to be to capture every magic moment on the day (and having the energy to run around and occasionally duck, dive, and crawl to get there as quietly and unobtrusively as possible) is something you can only learn through a lot of experience photographing weddings. I've photographed more than 200 weddings, and I'm still learning, but I know I've come a very long way. That's why I would never suggest you get that cousin who only does photography as a hobby to 'try their hand' at photographing your once-in-a-lifetime wedding.
Because there's only one chance to get the shot, there's also almost nothing quite as high-stakes as wedding photography. It's a lot of pressure for the photographer! Do you really want to burden a friend or family member with that much responsibility? I've heard horror stories of family feuds that started when a lens cap was left on as the bride threw her bouquet, but it's not reasonable to expect a hobbyist to deliver what a professional wedding photographer can.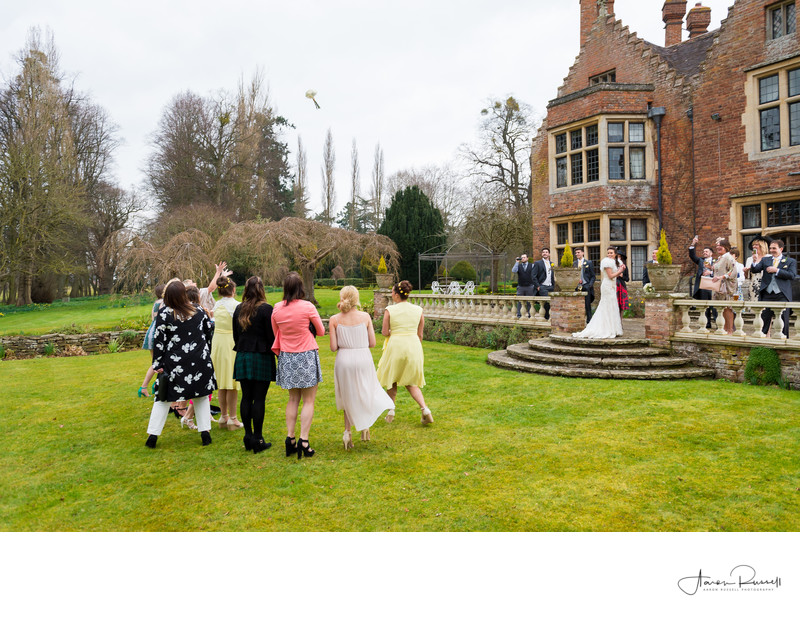 Think about it – can you really be sure that the groom's cousin won't put down his camera just for a minute (or two hours) to dance with a pretty friend of the bride, and will stay far, far away from the all free champagne to make sure he has a clear eye all night? Is it worth the worry over whether you'll get all the pictures you want, and still have a great relationship with your 'photographer' afterwards?
I don't demand to be the only photographer at your wedding – it's a bonus if guests want to take their own photographs, as I can't be everywhere at once. But I don't ever rely on your guests to catch something I miss that I know you want a professional to shoot.
What Goes Into Real Professional Wedding Photography
We've already talked a little about the most valuable weapon in a professional wedding photographer's arsenal: experience. That's something money just can't buy, and I don't recommend you hire any photographer with fewer than 50 weddings under their belt.
I didn't start marketing myself as a solo professional wedding photographer until I had years of experience assisting a more experienced photographer at weddings precisely because you need to have that experience to have any chance of getting a picture-perfect shot of all the most important moments on a wedding day.
Another thing that makes wedding photography expensive is education. There's rarely anything 'point and shoot' at a wedding! I need to keep my skills up to date to make sure I'm getting the best shots possible with the best and most advanced equipment, so I take courses throughout the year that easily add up into four figures.
Speaking of equipment: I'm definitely not using your cousin's entry-level DSLR! You can expect me to turn up on your wedding day with three cameras, almost a dozen lenses for capturing different views, worth over £30,000, and about £10,000 of lighting equipment. Naturally, I also pay a lot of money to keep these breakable items insured, as well as to keep me (and you) covered with public liability and professional indemnity insurance. Thankfully, there's the NHS to rely on when my back eventually gives up from carrying all that gear around!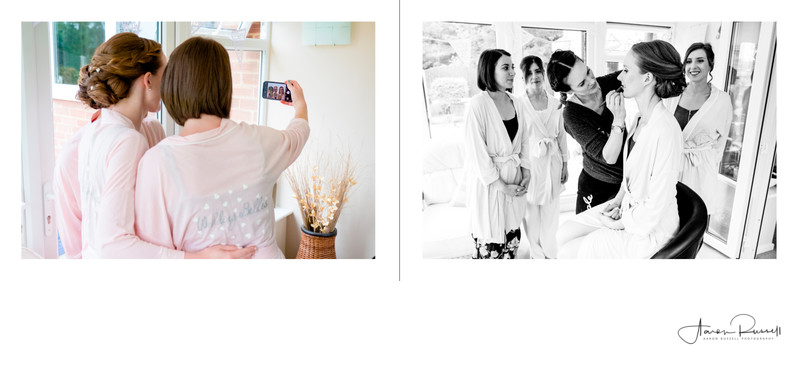 Once I get home from your wedding day, I get to work in my home office, with the latest 27" iMac (£2500) and a custom calibrated 27" Eizo monitor (£1700) so I can see the true colours from your wedding day as I edit. Your wedding photographs are backed-up on three individual hard drives as well as the Cloud to ensure your memories are perfectly safe with me. Unlike your wedding reception, my work is not over when the last guest standing finally makes their exit; I typically spend around 10 - 15 hours editing the photographs from each wedding that I shoot.
Some photographs are more challenging to edit than others. For example, I might spend more time in the edit suite when there were challenging conditions, like wild weather or a night-time ceremony, while I was shooting. The hours I spend editing are an essential part of the job that my clients never see, although they do see (and love!) the results.
If you're considering a wedding photographer who can't talk for days about editing – or worse, who outsources their editing to someone else – I'd strongly urge you to reconsider. In my experience, you need someone who is both great at shooting on the day and skilled at editing after the event to get the kind of wedding photographs you'll truly cherish forever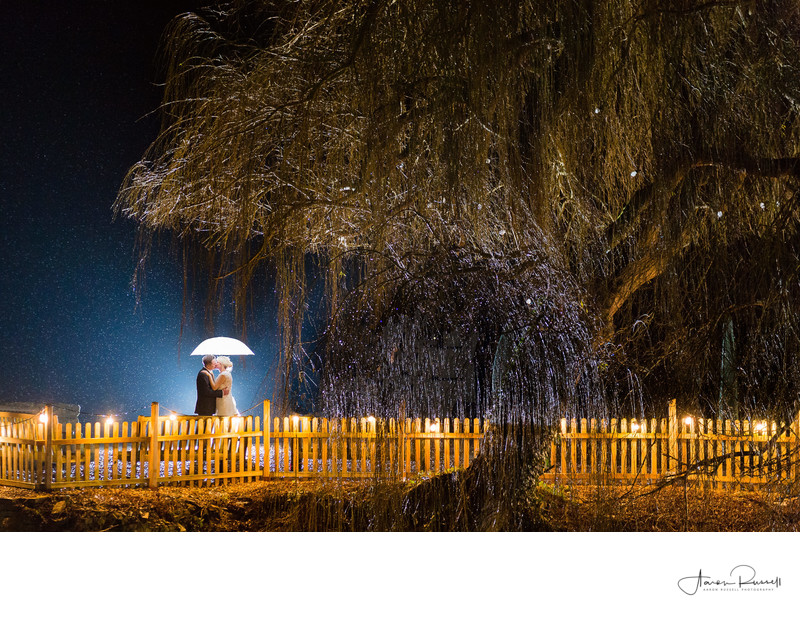 What else goes into the bill? Well, add my travel costs for your wedding day and any consultations we have within two hours of where I live, and the time we spend on that consultation – while it's always lovely to meet you, our consultation is still a business meeting!
There's also the preparation that happens before your wedding. If I haven't photographed a wedding at your chosen venue before, I might make an advance trip to the location to scout around and start thinking about how to get the most spectacular shots. At the very least, I'll spend an hour or two online looking at the venue, memorizing your schedule, and thinking over what you've told me about your dream wedding photographs, so I'm mentally prepared with all the details for everything I'll need to do on your big day.
I also need to check all my equipment is working, fully charged, appropriately packed, and that I have a backup option ready for all of it in case of equipment failure. It takes a lot of time to double-check everything, but a professional doesn't leave anything to chance.
Finally, there's the time I spend making sure I look presentable on your big day. Because I specialize in documentary-style wedding photography, I aim to blend in with your guests as much as possible.
The reality: every little bit adds up. When you factor in the cost of my equipment, the value of my experience, the money I spend on improving my skills with education, and the expenses of running my business (like insurance, travel, my home office equipment and professional attire), it's very easy to see that I'm definitely not making hundreds of pounds per hour. And that's before you factor in the many hours of work I do before and after your actual wedding day. It costs a lot to hire a professional because it costs a lot to be a professional!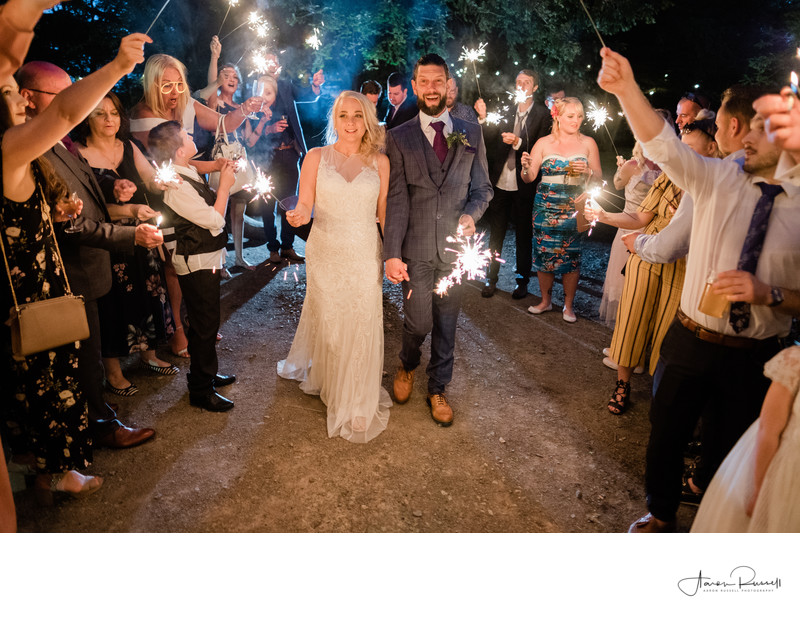 Beware the Bargain 'Professional' Photographer
That's another thing you should be aware of – sometimes couples tell me they've seen another 'professional wedding photographer' advertising rates that are impossibly low, so low that I know they must be cutting more than a couple of corners. It's easy to be tempted by a bargain, but you always need to ask yourself, why is the cheap wedding photographer cheap?
How much experience do they have? Are they using the best equipment? Are they insured? Often, a cheap 'professional' wedding photographer is really just a hobby photographer seeing if they can make some extra money from shooting weddings as a side job – and you don't want your wedding to be someone else's first attempt at wedding photography.
A real professional will always be able to answer all your questions about how experienced they are, what equipment they use, what their insurance covers, and how they've developed and updated their skills over time. If someone can't answer your questions, can't show you a broad portfolio of work, and can't offer to put you in touch with past clients who'll give glowing testimonials, trust your gut: it's probably not a bargain, but a disaster waiting to happen.
Aaron Russell – Your Professional Wedding Photographer
When you hire a real professional wedding photographer who has the right blend of experience and energy, you can relax and enjoy the once-in-a-lifetime experience of your wedding day, safe in the knowledge that your photographer is there capturing every magic moment.
I say 'energy' because every wedding is different, and you want someone who can be flexible and work on the fly as things happen, not insist on the same old set of traditional wedding portraits.
Then, after all the guests have gone home, the decorations have been taken down, and the gown has been lovingly cleaned and put away, you'll still have another magic occasion to look forward to – the day you first see your incredible wedding pictures. You'll be able to relive all the fairytale romance of your wedding, as well as all the sweet and funny moments your photographer captured that you didn't even know had happened.
If you have to cut the budget, cut the cake instead of the photographer. A beautiful album of professional wedding photographs is priceless and will last forever, just like your love for each other. It's not a luxury, it's an investment, towards a lifetime of happy memories as husband and wife.