Aaron Russell Photography
Wedding Photographer near Leicestershire
Wedding Photographer in Leicestershire
When Chantelle and Karl first got in contact with me, they knew exactly what they wanted from their wedding photography. Moreover, they knew exactly what they didn't want; stuff, awkwardly posed pictures and they really didn't want the photographer taking over their wedding day. After a quick chat they decided that I was the right man for the job. After all, as a documentary wedding photographer, the vast majority of my photos are candid in nature, and I really try to avoid posing people at all costs.
The brief therefore was simple; Turn up, don't get in the way and take lots of pretty photos that perfectly told the story of their big day in Leicestershire.
My morning started with Chantelle getting ready. For me this is actually one of my preferred times of the day as you can get so many good candid moments and you don't have to interact with the people you're photographing - you can let them get on with things and tell the story as it happens. This is also a great time for the bride and bridesmaids to get used to the presence of a photographer, which isn't a luxury that the groom has before the wedding. The by time of the wedding ceremony itself, the bridal party should be well used to the photographer being around and snapping away quite happily.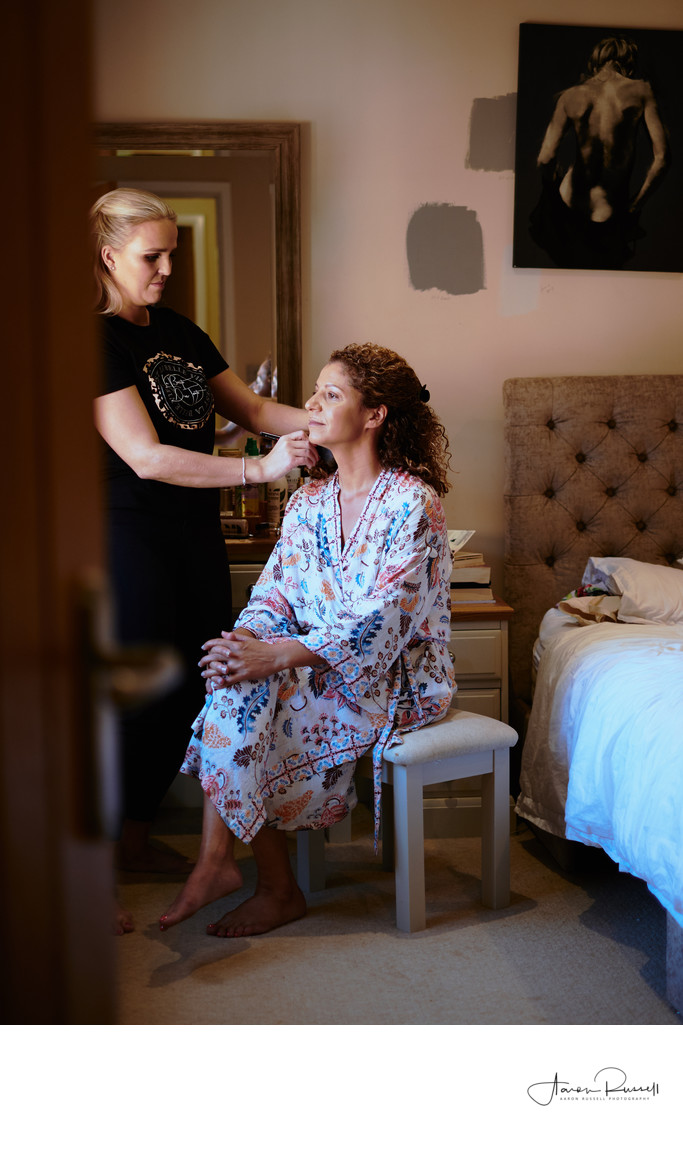 As you can see from the image above, the makeup artist sat the bride right in front of a large window, which was absolutely perfect for photography. First of all, using daylight means you don't get the artificial colour cast that you might do if you were using interior lights, but that side, the directional light given by a window is a lot nicer to work with and much more flattering too.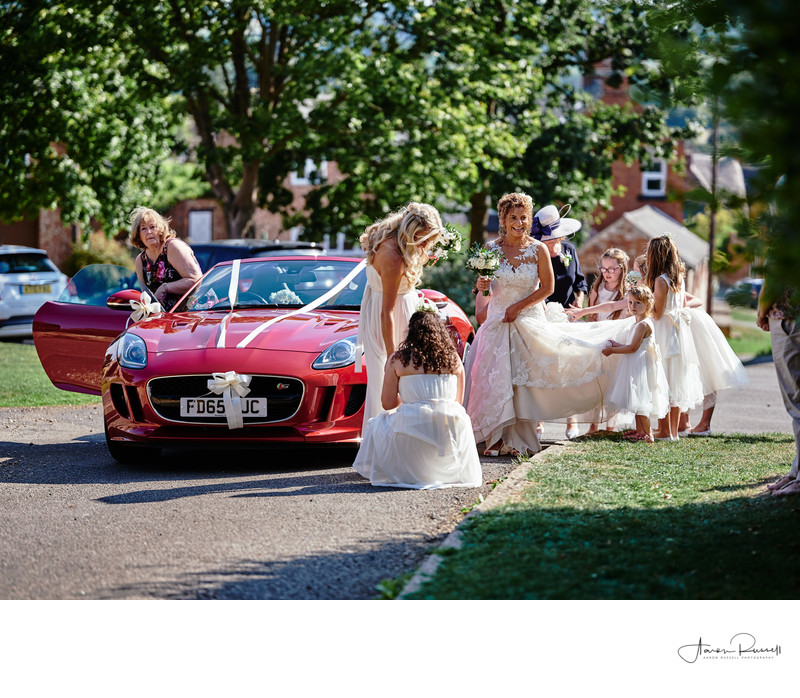 As we skip forward a few hours, we can see the large bridal party airing at Great Easton church in Leicestershire. This is really where documentary wedding photography comes into it's own, and I really adore these photos. There's nothing fake or contrived about them, just simple, beautiful wedding photos of the bride arriving at church. You can see from her expression and the looks on the faces of those around her that by this point they are all well used to me being there and pointing a camera at them.
One thing I particularly like about the photo above is how some passers-by have stopped to take a look at the bride, and are even taking their own photos. I really don't mind including these people in the image, as it really goes some way to telling the story of the wedding day that little bit better.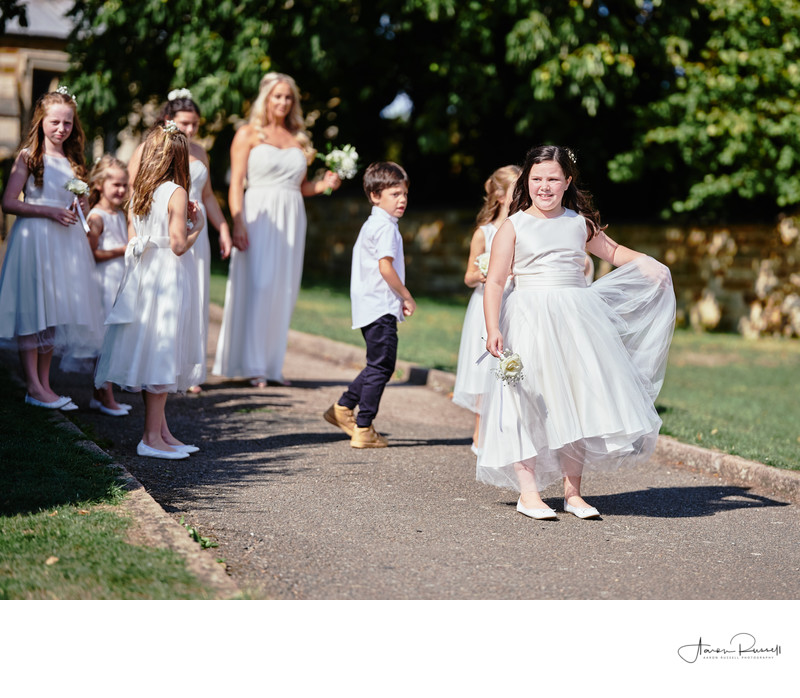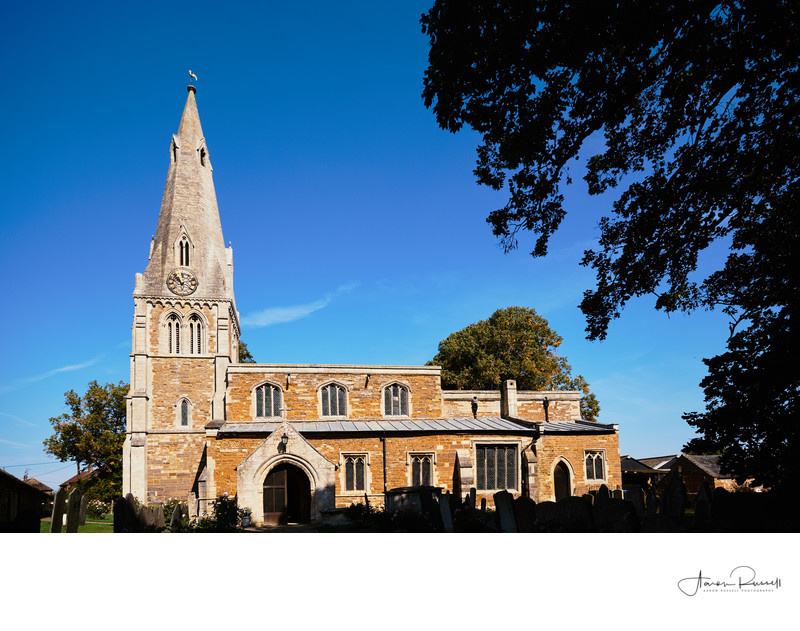 The church itself is a great looking building, with the golden-orange stone more reminiscent of that which you might find in the Cotswolds. Chantelle and Karl must have felt blessed on their wedding day to have had the weather the way they did. A pristine blue sky with not a cloud in sight!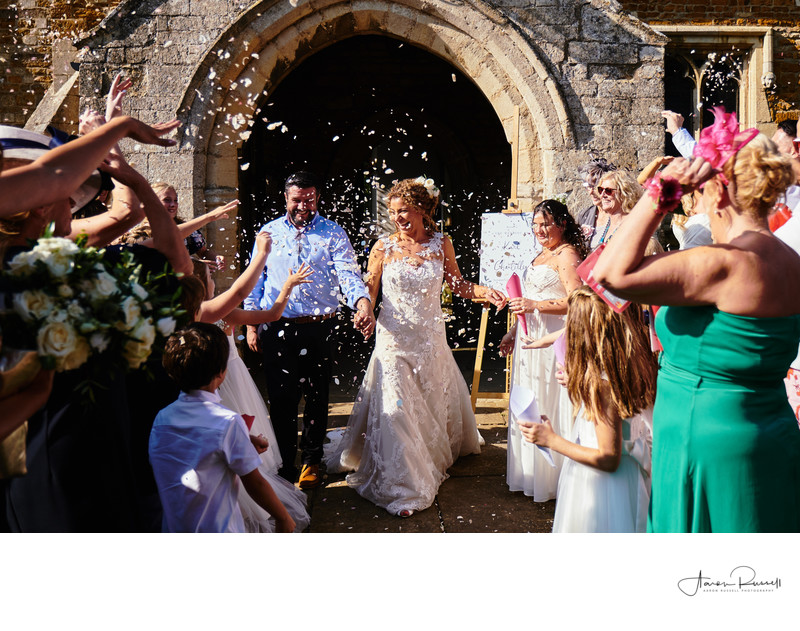 The wedding reception wasn't held in a wedding venue, instead was held at a friend's barn conversation which, to be honest, could have been custom made for the job at hand! The stone walls, warm in colour gave a lovely warm ambiance to the place.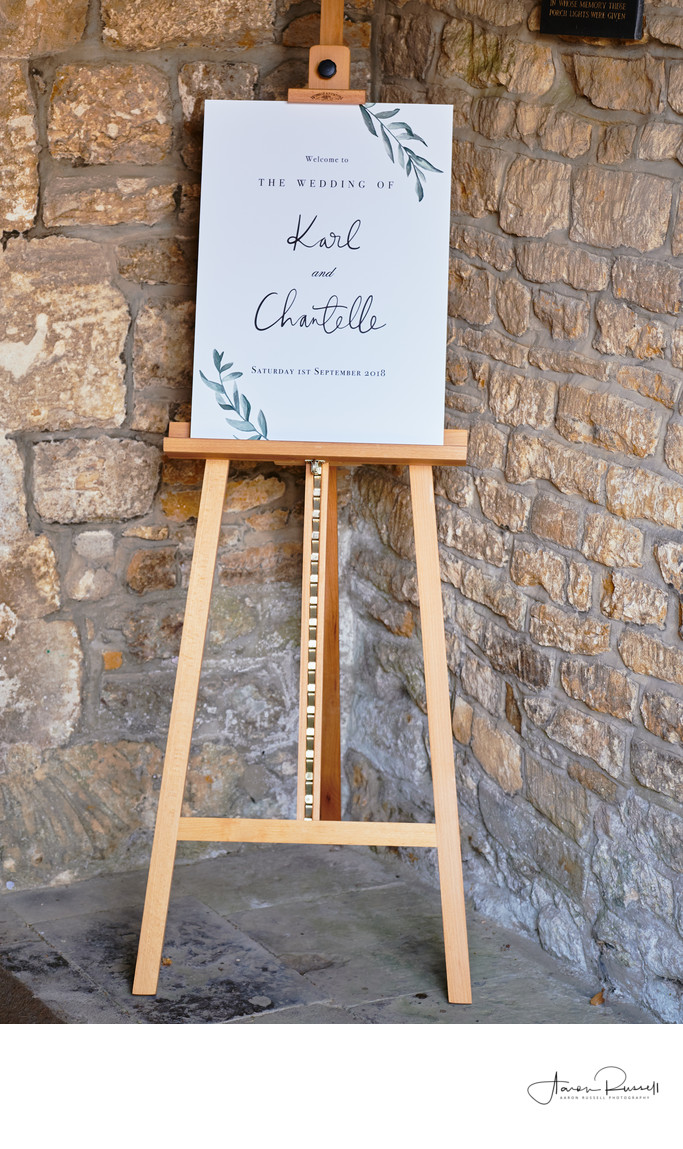 Upon my arrival at the barn I set about taking candid photos of the wedding guests enjoying themselves. A bar had been brought in and there were plenty of refreshments available.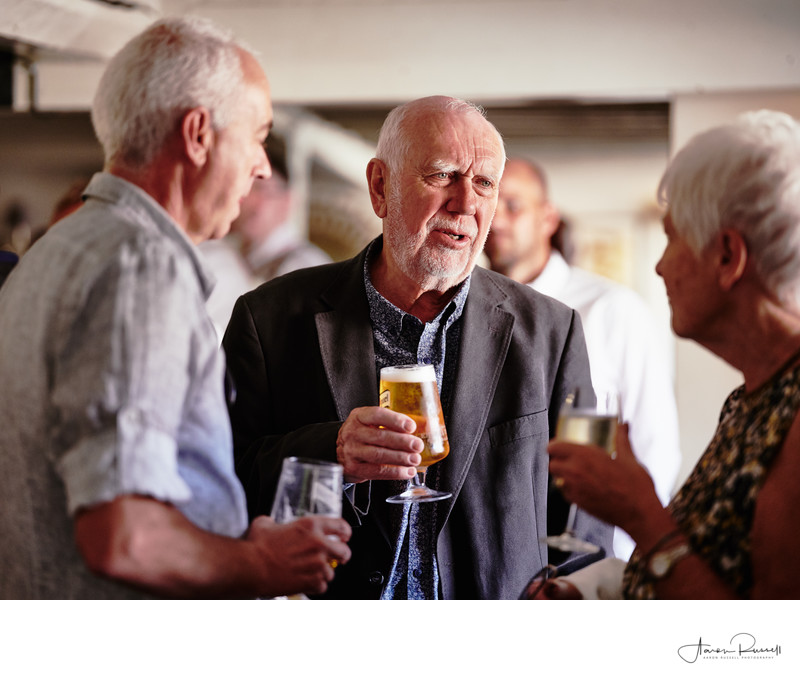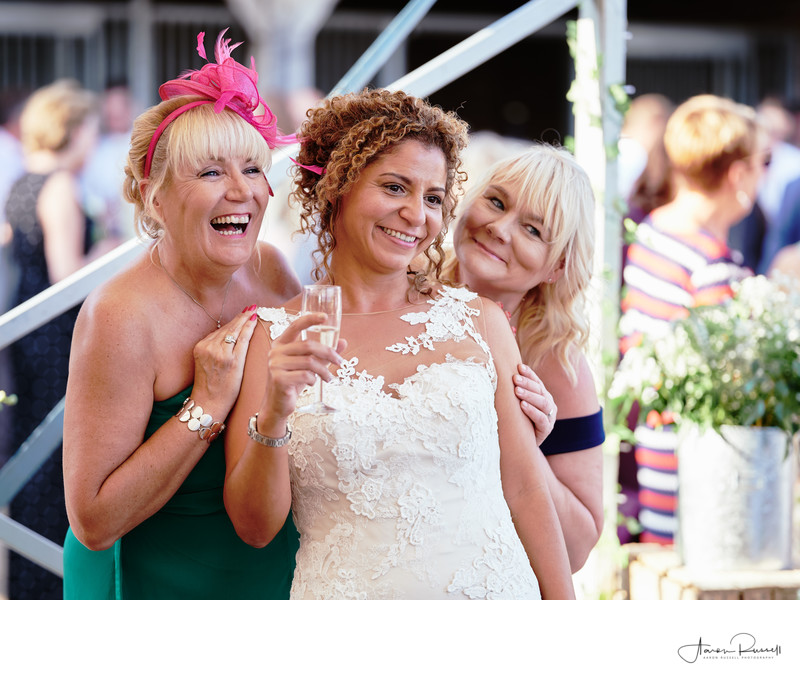 I really enjoyed documenting this wedding. As per usual I opted to hang back, out of the way of people and out of their eye-line as much as I could, choosing to shoot with a long telephoto lens so I could really zoom in and focus on the action without my presence changing anything at all. So often you risk changing the nature of the scene you're photographing just by being there and getting noticed. A long telephoto lens and a good hiding spot is the best way to get around this!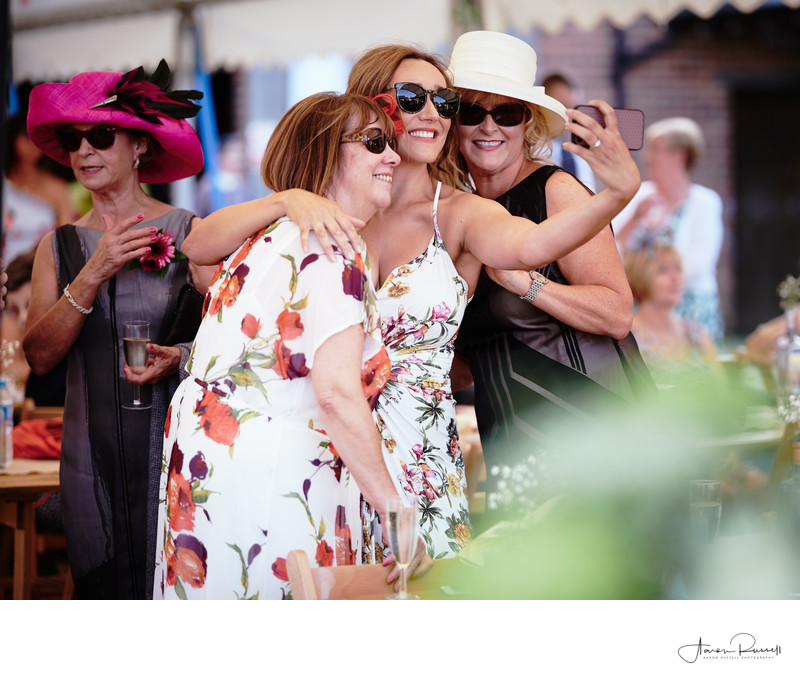 As the guests were seated for the speeches I kept shooting away as before, with a long lens and trying by best to stay out of the way.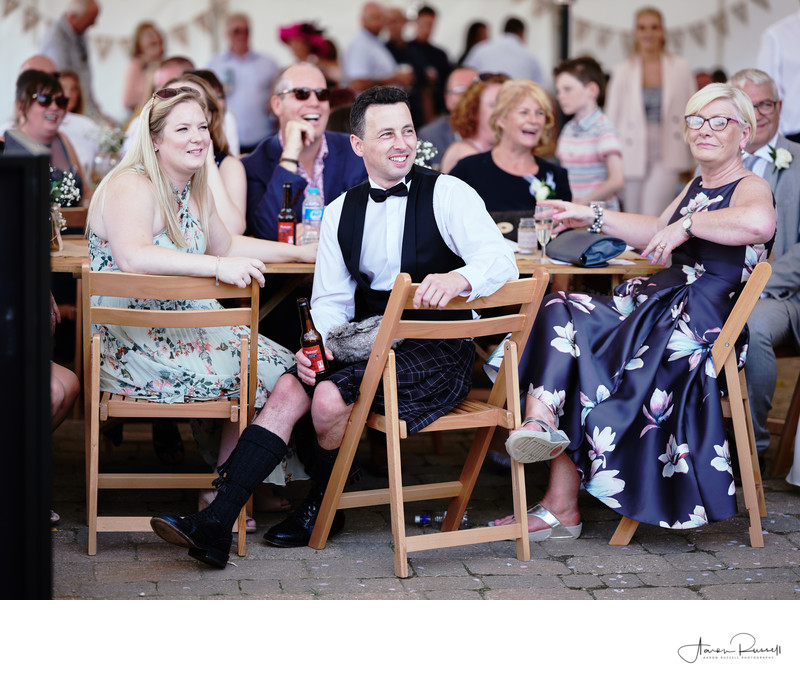 As I've mentioned, when you are taking photos and are able to be seen doing so, you really risk altering the nature of the interactions between people that you are trying to preserve and capture on film. Documentary wedding photography is all about capturing the real story of events, and when it comes to wedding photography, it's all about recording moments between people. I love the two images below, showing the bride and groom embracing during the speeches. Those reactions, an the way they look at each other just cannot be captured any other way.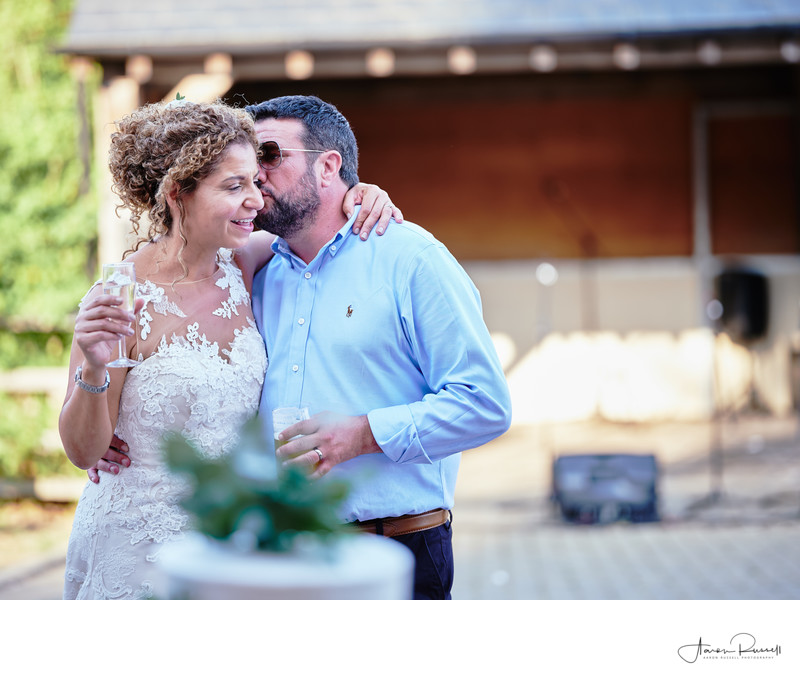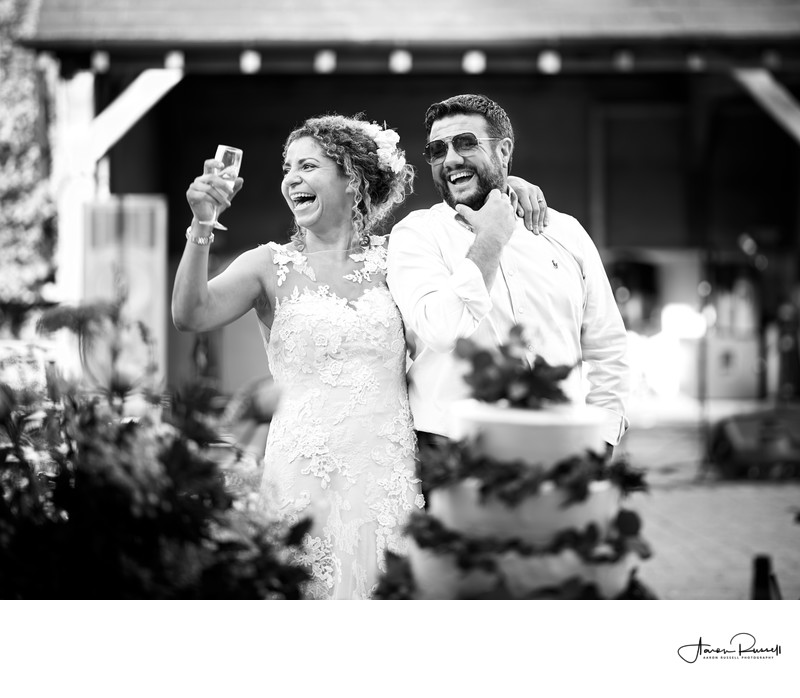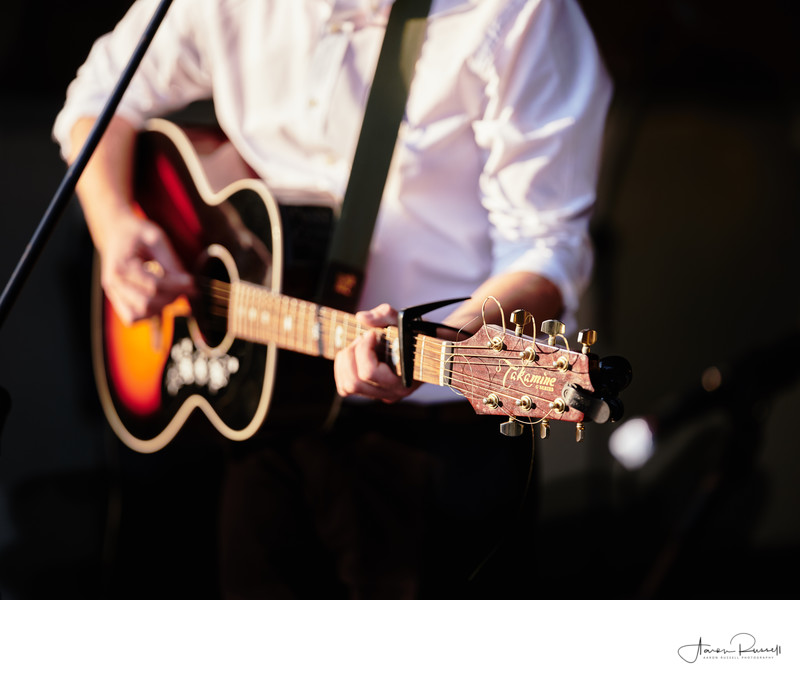 Location: Bride and Groom during the speeches as a wedding in Leicestershire.