Warwickshire Wedding Photography
Warwickshire Wedding Photographer
Warwickshire is an ideal location for a picture-perfect wedding. Whether you want the charm of a historic town like Stratford-upon-Avon or Leamington Spa, the grand backdrop of a castle or manor house, the rustic appeal of a converted barn, the outdoorsy vibe of rolling countryside, or even the fun of a zoo, Warwickshire is a diverse county with a wedding venue to suit every couple.
I am a wedding photographer with years of experience capturing every special moment as it happens on the big day. No matter which venue you choose, choosing me as your Warwickshire wedding photographer will ensure you get the wedding photographs of your dreams.
Step Back in Time
Many couples choose Warwickshire as a wedding location for its historic towns and buildings. As a backdrop for wedding photographs, historic manor houses and halls (and in Warwickshire, even a castle!) usually have a lot to offer, with opulent interiors, grand exteriors and beautiful gardens and grounds providing a multitude of places for your wedding photographer Warwickshire to get the perfect shot.
For Shakespeare's Warwickshire, consider Gorcott Hall. This 16th century, grade II listed Tudor hall has been beautifully restored with original timber beams, luxurious décor and striking open fireplaces providing traditional character. Say your 'I dos' in the intimate sitting room, or choose the barn for natural light by day and beautiful views over the gardens.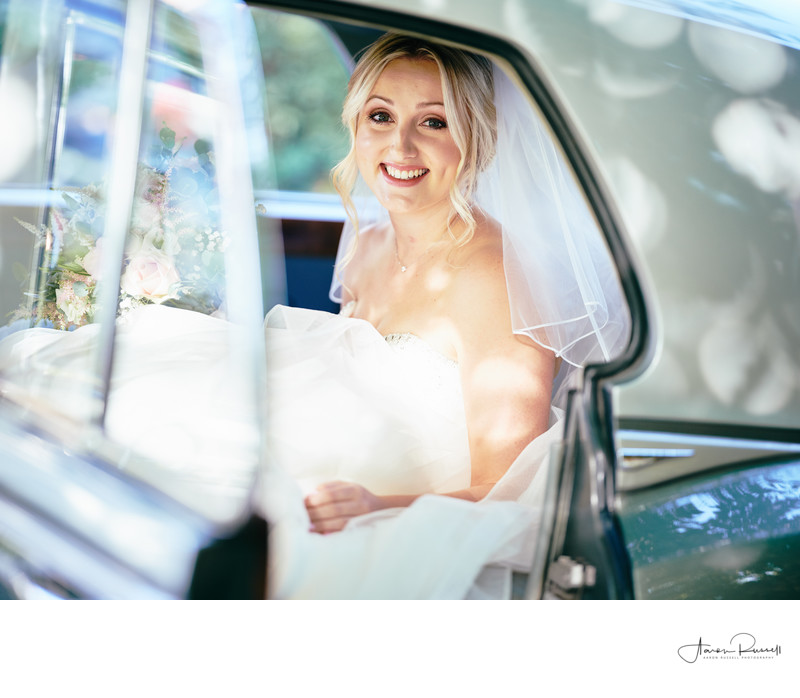 For the ultimate in country sophistication, renowned art gallery Compton Verney offers several unique settings for a picture-perfect wedding. Exchange vows or hold your reception inside one of the galleries in the stunning Grade I Georgian Mansion, or outside beneath the dramatic Georgian portico. Set in 120 acres of parkland, another favourite place for wedding photographs is the stunning historic stone bridge on site.
For the ultimate in fairytale weddings, why not consider having yours in a castle? Dating back more than 1100 years, Warwick Castle has hosted royalty under the glittering chandelier of its magical State Dining Room and now hosts glamping for guests in a picturesque woodland grade on the grounds. Reception options range from modern cuisine to a traditional medieval feast, and you can even arrange to be photographed with the local falconer and his birds of prey!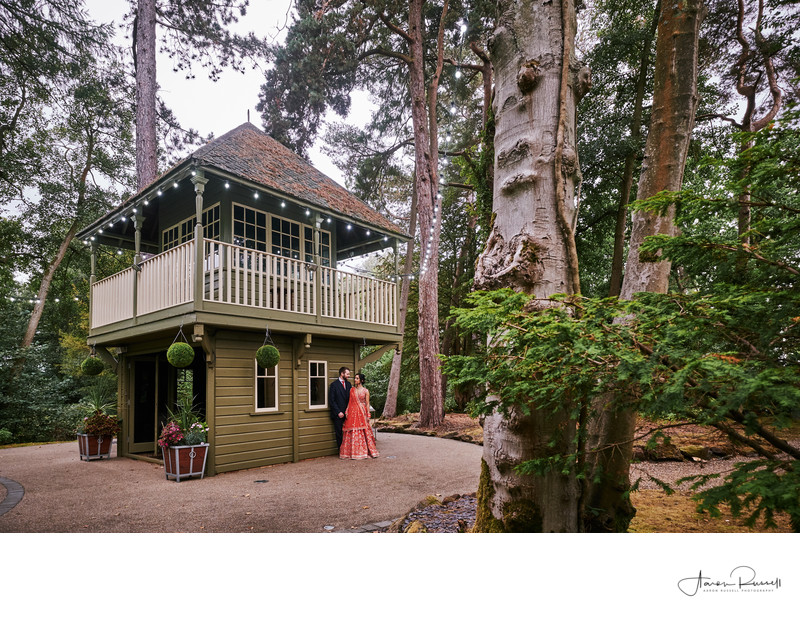 More historic wedding venues in Warwickshire: Dunchurch Park, Old Shire Hall, Wootton Park, Alveston Manor Hotel, Wethele Manor, Rugby School, Ettington Park Hotel, Shustoke Farm Barns, Warwick Park, Charlecote Pheasant, Ashton Lodge Country House, Mallory Court Country House Hotel and Spa, The Lord Leycester Hospital, Hogarths Solihull, Sherbourne Park
Old and New
If you love the romance of history but want a wedding venue with a modern twist, your wedding photographer Warwickshire will have plenty to work with at a site that combines the charm of the old with the sophistication of the new.
Mythe Barn is a contemporary barn wedding venue offering ceremonies under the garden gazebo or in the spectacular Oak Barn, which has a two-storey frame complemented by full-height windows. A traditional sit-down meal can follow, or the outdoor kitchen in the courtyard can produce spectacular street food for your guests from wood-fired pizzas to mouth-watering barbecue, with a fully-stocked bar in the neighbouring Cart Barn.
For a real mix of the historical and the contemporary, look to Blackwell Grange, with its lovingly restored rustic 16th century Thatch Barn providing a romantic place for your ceremony and the modern Orchard Barn combining heritage and contemporary design for a stylish, one-of-a-kind reception venue.
Stoneleigh Abbey, with some of its Elizabethan and baroque-style buildings dating back to the 15th century, has hosted Queen Victoria, Prince Albert and Jane Austen on its grounds. The Abbey has recently partnered with Monsoon Venue Group especially to host South Asian weddings, and won the 2017 and 2018 Midlands Asian Wedding Awards "Best Alternative Wedding Venue" prize.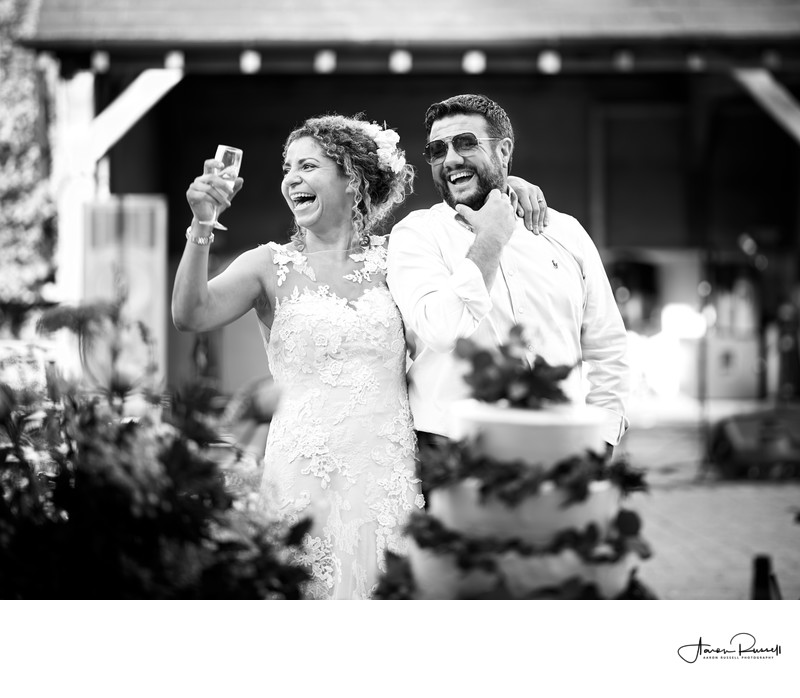 More historical/contemporary wedding venues in Warwickshire: Mercure Walton Hall Hotel and Spa, The Arden Hotel, Sketchley Grange Hotel and Spa, Dallas Burston Polo Club, The Stratford Park and Golf Club
The Great Outdoors
It's no secret that even on a cloudy day, some of the best moments for your wedding photographer Warwickshire to capture often happen outdoors. If you love the idea of a sophisticated garden wedding, a relaxed festival vibe or a fun, quirky day at the zoo, Warwickshire has plenty of venues for an outdoor dream wedding.
Grimscote Manor Hotel is a popular choice for couples who want to be married in lush, green surroundings. Set in four acres of countryside, the landscaped gardens, picturesque woodlands, and Victorian Oriental bandstand make the perfect backdrop for an outdoor wedding. The illuminated waterfall and charming Stenhouse Bridge are also ideal for posed photographs.
Kingstanding Farm is perfect for idyllic, private weddings with a festival twist – surrounded by endless fields, there are no noise restrictions for your outdoor wedding and marquee or tipi reception! The pond on site means dragonflies and butterflies may wander in and out of your wedding photographs.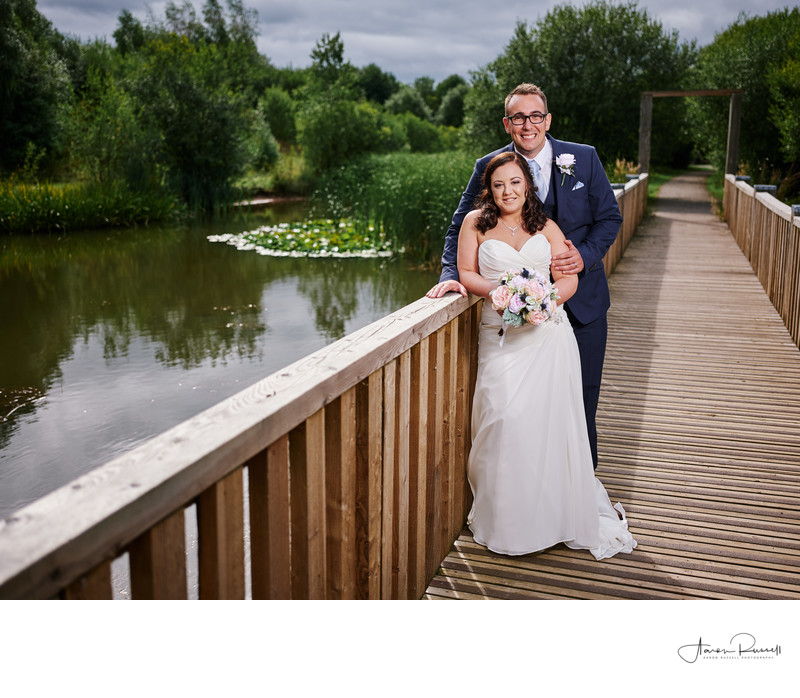 For real animal lovers, Twycross Zoo offers a range of unique wedding and reception locations, including the Himalaya room overlooking the snow leopard enclosure. If you plan to include children in your wedding party or on the guest list, this is a perfect venue to keep them busy and entertained all day and night long.
More outdoor wedding venues in Warwickshire: Ardencote, Home Farm, Lea Marston Hotel, Alcott Weddings, Glebe Fields, Jephson Gardens, Abbey Farm Bed and Breakfast
Aaron Russell – Your Warwickshire Wedding Photographer
No matter what style of venue you choose, as your Warwickshire wedding photographer I'll plan your needs with you to capture the day just how you imagined it. After photographing more than 250 weddings, I know precisely where to be (and when!) to get the candid, documentary-style photographs that newlyweds treasure most: the ones that capture those perfect, once-in-a-lifetime wedding day moments.
I have the experience to quickly capture any formal or 'staged' wedding shots you want so you can move on and enjoy your wedding day without taking hours away from your celebration. With so many perfect wedding locations to choose from in Warwickshire, you'll want to spend every possible minute just being in the moment as you celebrate your dream wedding day with your friends, family, and of course, your brand new husband or wife!