UNPLUGGED WEDDING
Weddings are (ideally!) a once-in-a-lifetime event for the happy couple. Whether they've spent a full year or more planning every little detail of the big day (the ceremony, the dress, the venue, the flowers, the food, the photographer and more) or put together their wedding celebration quickly and with little fuss, a wedding is always packed with precious moments for the newlyweds. These moments aren't easy to re-create when somebody's amateur mobile phone photography prevents the professional wedding photographer from capturing the shot.
I understand why people want to take a million pictures on their mobile phones at weddings, I really do. Everyone in your group of friends is dressed to impress and to look their best. You may be at a particularly stunning venue, and the decorations may make every place you look completely insta-worthy. Not to mention, your friend or family member is getting married! How can you not try to get a shot for the history books?
Here's one reason: your blurry mobile phone shot may get in the way of the professional wedding photographer the couple has carefully chosen and paid a lot of money for, trusting that they'll use their extensive experience and arsenal of expensive equipment to capture every magic moment on the big day exactly how they want it photographed.
I've never heard a bride say 'we really want a picture of our first kiss showing all our friends holding up their mobile phones to get their own picture of our first kiss'… not once.
So here's my humble proposal: why not have an unplugged wedding? You don't have to ban mobile phone pictures or wedding selfies completely, but during certain parts of your wedding day, you have every right to ask your guests to keep their camera phones in their pockets or purses. For example:
The Ceremony
Whether you have a formal blessing in a church or get married by an Elvis impersonator, your ceremony is the whole reason for your wedding day – it's when you go from being two people in love to two married people in love. When little girls play dress-up and dream about their future weddings, they usually don't imagine their cousin and best friend from university jostling over the best spot to get a mobile phone shot of the big 'dress reveal' as the bride walks down the aisle.
You've invited people to your wedding because they're important to you and you want them to witness this very important day in your life – not because you want them to distract everyone around them trying to get their mobile phone camera settings just so. I honestly can't tell you how many 'first kiss' shots I've seen that are ruined by the dozens of cell phones held aloft, all trying to get their own version of the shot – it's become more common than not that everyone pulls out their mobile phone for the first kiss. I've known couples who chose unique and stunning ceremony sites for the incredible backdrop the venue will provide for that all-important first kiss photo, only for me to have to crawl on the floor and take an extreme close-up just so there aren't twenty-seven mobile phones in the frame, while the incredible period architecture barely makes it into any of the ceremony photos.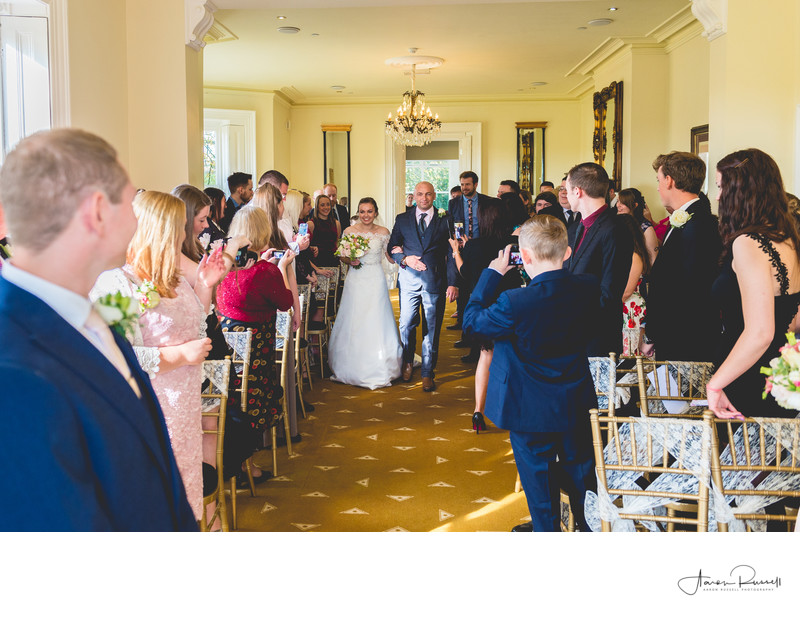 The Reception
To me, it makes sense to give your guests free rein to take pictures of themselves and each other at your wedding reception – but you might want to insist that your professional wedding photographer takes any photographs including you and your new spouse. Otherwise, you can find yourselves interrupted every thirty seconds by yet another person wanting to get a selfie with the bride and groom, and you end up barely getting to enjoy the reception or wedding breakfast you've spent so long planning for – forget being able to finish your meal, or hitting the dance floor without constant interruptions!
I know a bride who was so frustrated with constant requests for mobile phone photos from her guests (who had already made liberal use of the open bar a few hours into the dinner and dancing) that she simply had enough and decided she and her new husband would make an early exit from their wedding celebrations – "I never even got more than one sip of champagne before yet another person wanted a photo, because I lost my glass every time I put it down to pose for a picture… I ended up very sober, increasingly annoyed with all the interruptions (which seemed to take forever, because most of my selfie-wanting guests were already very tipsy and hopeless at working their cameras), and just decided the day was over for me. I wasn't enjoying my wedding day anymore because it felt like I couldn't move without someone else demanding my new husband and I stop and pose for a photo with them," she said.
This bride (not one of my clients) had a professional wedding photographer and his assistant roaming the reception to make sure all the essential shots were covered and to take countless photos of all her wedding guests, but that still didn't stop her guests from (sometimes drunkenly) pulling her away from the celebrations to insist she pose and smile for yet more photos – and it ruined her enjoyment of her reception. "It's been more than ten years," she told me, "and I'm still annoyed I didn't get to enjoy even one glass of champagne at my own wedding reception or taste the meal I'd so carefully planned! I wish I'd made it clear that I had professional photographers who I trusted to take great photos of everything, from the first kiss to cutting the cake and quickly organising group shots that included me and my husband and all of our guests. There was no need for everyone to insist on their own blurry selfies, and I remember looking longingly at all the fun happening on the dance floor while I never even got close to dancing at my own wedding, because every time I took a step towards the dance floor, someone else jumped up demanding I pose for their phone camera."
The Controversy
In our social-media obsessed world, a lot of people feel they have the right to document anything they want on their Instagram or Facebook feed, and it's led to serious clashes between wedding guests and professional wedding photographers. In October 2018, a video from Kentucky, USA of a professional photographer forced to physically shove the bride's stepmother out of the way to capture the couple's all-important first kiss went viral – with the vast majority of people, including the bride and groom, siding with the professional photographer over the amateur family member with the phone camera.
Now, ideally you can have an 'unplugged wedding' with no shoving involved, but you'll need to make your expectations and wishes clear, so your guests know when it's appropriate to use their phone cameras and when it's not – and it can't hurt to have someone (a groomsman, or a parent of the happy couple, perhaps) as the designated 'enforcer,' so guests don't ignore your rules amongst all the excitement of your beautiful wedding.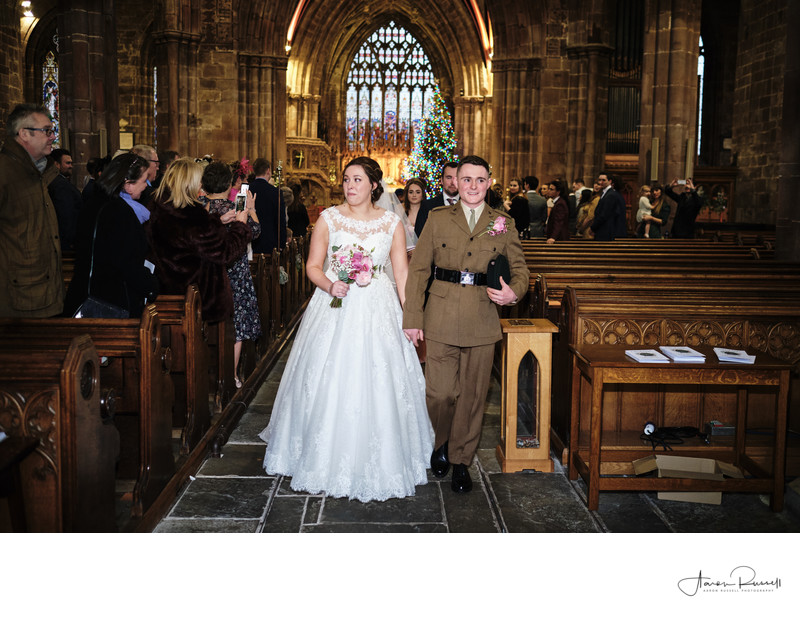 Solutions
Here's a sample wording you could include on a card with your wedding invitations:
---
Dear guests, we're thrilled to invite you to our wedding – but we'd rather not invite your mobile phones! We have hired a professional photographer who will get the best possible results if they're able to move around freely without worrying about camera phones in the frame, and we'd like everyone at our ceremony at to be focused on our marriage vows, without mobile phone cameras distracting from this very special occasion.
---
At our reception, our professional photographer will make sure everyone is included in our wedding photographs (including in pictures with us as the newlyweds), so we ask that you please only take pictures of yourself and your friends at our reception, and trust our photographer will get a great shot of you and the two of us.
---
(Bride/groom) is a little camera shy, and we want to be able to enjoy our wedding without constant requests for photos – that's why we've hired professionals to get all our pictures done with minimum fuss. Thank you for understanding, [bride and groom].
---
Some people may object to this very reasonable request because keeping their social media updated is more important than their friendship with you. If that's the case, thank your lucky stars you weeded out these 'friends' before beginning married life!
It's also possible that people will forget about your 'unplugged wedding' plans in the time between receiving their invitation and your wedding day, so make sure to remind them. If you're having wedding programs printed, remind your guests not to use their mobile phones during the ceremony in the programs. If you're not printing programs, ask your 'enforcer' to go row by row, reminding your guests that mobile phones are a no-go while everyone is waiting for the bride to arrive. If you're having a religious blessing, your pastor/priest may also be willing to do this for you.
If You Can't Beat Them, Distract Them
If you're still worried your guests will be too snap-happy to respect your wishes, you might want to consider ways to distract them from constantly bothering you for photos and ruining your professional photographer's shot by holding up phone cameras at every special moment.
One way to do this is by renting a photo booth and props – these are magnets for the photograph-everything crowd, and you can place the photo booth out of the way of the main action so your would-be celebrity friends can stay busy for hours playing around and trying to get the perfect shot of themselves.
Another solution is to task the most likely offenders with very important missions that don't involve you and your bride or groom. Can you get great photos of the floral arrangements? Can I trust you to photograph my mum/dad/in-laws while we're cutting the cake, or having our first dance? This strategy recognises your guests' need to act like a photographer without putting them in the way of the professionals you've hired to photograph you and your new spouse.
A similar strategy is to create a wedding hashtag for social media (e.g. #smithjoneswedding) and ask guests to use it as they capture all the moments on your wedding day you might otherwise miss – i.e., the moments where you are not in the frame.
Another possible solution is to set up a space that's practically designed as the perfect Instagram backdrop; for example, a wall festooned with flowers, beautiful fabric, or quirky retro items that make it one-of-a-kind. Such a wall will be irresistible to your social-media obsessed friends and will help keep their cameras away from you.
Your Photographer Matters
If everyone in the church or wedding venue is trying to get a picture on their mobile phone as you make your exit after being declared newlyweds, there's not much any professional photographer can do to get great images without all those phones in the frame. But an experienced wedding photographer is still your best bet for getting amazing photographs with a minimum of 'distractions' in the frame, and you should never trust someone with a phone camera (no matter how advanced) to be your principal wedding photographer. A pro wedding photographer will (unfortunately) be experienced at working around all the amateurs shoving their phone cameras in your face, and hiring a professional photographer is still your best choice if you want amazing wedding photography.
I am a documentary-style wedding photographer who takes pride in being near-invisible during your wedding celebrations – I know exactly how to get the perfect shot without interrupting you or the events of the day. With Aaron Russell as your professional wedding photographer, you won't miss anything by insisting on an 'unplugged wedding' – and you'll be able to enjoy every moment of your wedding without being constantly interrupted for photos or feeling self-conscious because you know you're being photographed.