My Camera Gear
---
When it comes to professional wedding photography having the right camera along with back up camera's and lenses are an absolute must. That's why Aaron Russell Photography invests in the very latest Fujifilm mirrorless camera systems. I shoot with the very latest X-T3 and X-H1Mirrorless bodies.
So why mirrorless versus the age-old battle of Nikon and Canon? I shot Nikon for years and I'm sure had I shot weddings with Canon I would have been equally as pleased as well as my clients with the results over the years. However, with the advancement of mirrorless cameras and the advantages they offer over the old guard of the trusted DSLR it was time to keep up with the latest technology to offer my clients an enhanced experience.
Here's a selection of the very latest Fujifilm Camera bodies and Fujinon lenses along with a selection of my Profoto lighting equipment.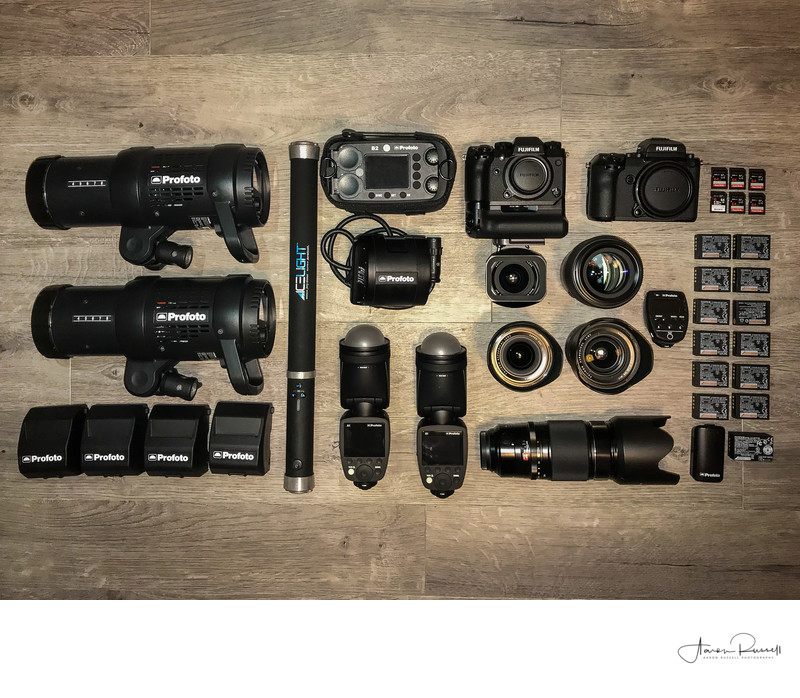 So what are those advantages? With the camera being mirrorless it means they are much smaller than there DLSR equivalents. Because the camera bodies are smaller this also means the lenses are also smaller. What this means is that clients and guests don't feel so intimidated with a large camera being pointed at them. The results are much more relaxed and candid moments being captured on your wedding day as you don't feel your being stalked with a mammoth camera and lens!
Aside from being much smaller, they also have the ability to shoot in complete silence. This for me was a real game changer and the main reason for changing to the latest mirrorless camera system.
When I was shooting with Nikon during the church service or civil ceremony you always had to be conscious of the noise of the camera shutter was making not interrupting the service. This could mean the opportunity to capture certain moments during the vows being limited. With the ability to shoot in complete silence those moments are no longer a concern as I can just shoot away without being hindered by noisy camera equipment.
During the day I'm able to hold the camera down away from my face, use the amazing touch-focus-shoot LCD screen to capture many more candid moments as the guests have no idea I can capture photographs whilst the camera is not up to my face.
So why Fuji?
Fujifilm has been making cameras and lenses in Japan for 84 years and in that time have set a benchmark for the quality of there camera systems and lenses. Being a company that also had one of the largest market shares of film back in the day before digital photography and still today, they truly understand colour and what it takes to enhance every moment captured by the photographer.
The quality of the Fujinon lenses is simply breathtaking. In all my years of shooting Nikon, I have never used a number of lenses that are as sharp and accurate colour rendition as the Fujinon lenses I now have the pleasure of owning and using on a daily basis.
So what lenses to I own? - The Geeky Bits... But boy are they important to the quality of your photographs!
Fujinon 10.24mm f/4 Ultra Wide Lens
Its ultra wide to standard focal length capabilities make it the perfect choice for shooting dynamic, high impact landscapes (and small rooms and large groups for that matter) images with excellent detail from the foreground to the far distance. The maximum F4.0 aperture is available throughout the 2.4x zoom range from the lens' ultra-wide 15mm* focal length to its longest at 36mm*. With a powerful Optical Image Stabilization system, the ability to work handheld when shooting in low light is boosted. It offers high-speed AF thanks to an enhanced inner focusing system, and the use of a stepping motor and lightweight internal lenses has ensured that the XF10-24mm is very quiet to use. Its minimum working distance of 24cm means that with macro photography you can capture both the small foreground detail and the wider surroundings to give your subject greater context.
Fujinon 16mm f/1.4
The lens has a fixed focal length of 16mm (24mm in 35mm format equivalent) and offers a dramatic wide field of view and stunning optical performance. The F1.4 maximum aperture delivers high image quality in low-light conditions and bokeh-rich macro photography with the minimum working distance of 15cm. Featuring high-speed autofocus, and great portability thanks to its compact size, the shooting possibilities are further expanded.
Fujinon 23mm f/1.4
The premium wide-angle lens designed to maximize the performance of the Fujifilm X-Trans CMOS sensor for the highest picture quality. With a focal length equivalent to 35mm*, the lens is suitable for a wide range of applications including portraits and landscapes as well as more general photography. The fast maximum aperture of f/1.4 allows you to shoot hand-held in low light conditions, where zoom lenses would introduce camera shake, plus it creates beautiful bokeh for artistic images. Lens distortion has been reduced to the absolute minimum using only optical rather than digital correction, thereby delivering the highest possible picture quality. The rounded seven-blade diaphragm ensures smooth bokeh even when shooting portraits or product shots at a medium aperture to maintain reasonable depth-of-field.
Fujinon 35mm f/1.4
Using a glass-molded aspheric lens at the 5th element minimizes spherical aberration. Achieving beautiful bokeh in out-of-focus areas as well as excellent in-focus reproduction to create a natural sense of depth according to the aperture setting and the subject.
The 35mm (135 equivalent: 53mm) lens has a standard focal length with the angle of view similar to that of the human eye.
Fujinon 56mm f/1.2
A fast F1.2 lens with a focal length of 85mm* that delivers beautiful background bokeh so it's ideal for portraiture. The lens' incredible resolving power is thanks to a new optical design featuring 11 elements in 8 groups. Two ED (extra-low dispersion) elements and one double-sided aspherical element are used to control spherical and chromatic aberrations, while a further four of the elements feature convex surfaces to ensure excellent light coverage, even when shooting wide open.
Like other XF lenses, the XF56mmF1.2 R is designed to be comfortable in use and has a premium quality look and feel.
Zeiss Makro 50mm f/2.8 Macro Lens
A perfectionist with an eye for the details for photographing you're details on your wedding day.
With its exceptional image performance up to a scale of 1:1, this macro lens is the ideal choice for extreme close ups. But it also comes into its own when shooting portraits or panoramas as a light tele-lens.
The delicate structure of a petal, the tiny hairs on a cat's fur or the seductive lines at the corner of the eyes – whenever a shot is all about the minute details, the ZEISS Touit® 2.8/50M will delight and inspire. It not only allows you to portray objects in their original size, but also provides for beautiful contrast between the pin sharp focus of the image and the softly sketched background thanks to its aperture of 2.8.
---